Really? You haven't started your holiday shopping yet? let us help you out.
First of all, have a look at this video from San Juan Canvas showcasing some really cool products made from recycled sails and some made from brand new canvas material.
---
Books
Here are some ideas from some local Northwest folks… and a classic, must have.
More Faster Backwards by Christine K Smith
http://www.amazon.com/More-Faster-Backwards-Rebuilding-David/dp/0615540899
ON JUNE 16, 2006, the David B left Bellingham, Washington bound for Juneau, Alaska, on her maiden voyage as a passenger vessel. Eight years earlier, Christine and Jeffrey had found the David B tucked behind a breakwater on Lopez Island. The tired old wooden boat, built in 1929, was showing her age. When the young couple stepped aboard the neglected vessel, her sturdy work-boat style captured their hearts with an ageless beauty that only the young dreamers could see. Their desire was to own and operate a small expedition cruise ship in Alaska. With their love for one another and without much income, they pinned their hopes and sheer will on rebuilding the dying boat. What they thought would be a two-year project, became an eight-year tug-of-war between time and money as they raced to finish rebuilding the David B before it was too late. More Faster Backwards is the story of Christine and Jeffrey's uncertain struggle to rebuild the David B and their journey to Alaska on an untested seventy-seven year old boat to begin the life of their dreams.
Prepare to Come About by Christine Wallace
http://www.amazon.com/gp/product/0990913708/ref=olp_product_details?ie=UTF8&me=
Christine Wallace writes with great clarity and honesty–and at times, with humor–about navigating the highs and lows of family, career and love in her gripping memoir Prepare to Come About.
Wallace chronicles her wildly successful business that brought her accolades and awards, radio and TV interviews. However, as her professional life skyrockets, her family's lives spiraled downward. She unflinchingly shares tales of teenage children in crisis, family pressures and chaos that illuminate the struggles of many working families.
As the economic tides turn, her full-throttle lifestyle founders and uncontrollable events broadside her business causing a devastating professional aftershock that amplifies her personal heartaches. Wallace and her family struggle with a loss of control of everything in their lives. The fractured family makes an unconventional choice that pivots them all into unfamiliar waters. Their lifeline comes in the form of a tall ship named Zodiac and its enigmatic captain.
Elsie Hulsizer – She has three books – here's a link to them all:
http://www.amazon.com/Elsie-Hulsizer/e/B004BV7SXG
Elsie Hulsizer is an environmental professional with a degree in oceanography and a certificate in fine art photography.  She and her husband own an Annapolis 44 sloop, which they have sailed extensively in northwest waters. Between sailing adventures she serves on the Washington State Board of Pilotage Commission, which licenses the pilots who guide ships into Puget Sound, and as a member of the Board of Trustees of Seattle's Center for Wooden Boats. Her articles have appeared in boating magazines in the U.S. and Canada.
Tightwads on the Loose by Wendy Hinnman
http://www.amazon.com/Tightwads-Loose-Seven-Pacific-Odyssey/dp/0984835008
Everyone dreams of tropical escape. But what happens when you escape for too long? Imagine spending 24 hours a day with your spouse in 31 not-so-square feet . . . for years; crossing the Pacific Ocean on two gallons of fuel; and tossing spaghetti marinara around your living room, then cleaning it up while bouncing like ice in a martini shaker. Tightwads on the Loose tells the story of Wendy and Garth, lured to sea by the promise of adventure.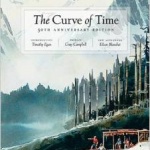 The Curve of Time by M. Wylie Blanchet
http://www.amazon.com/Curve-Time-M-Wylie-Blanchet/dp/1770500375
This is a biography and astonishing adventure story of a woman who, left a widow in 1927, packed her five children onto a 25-foot boat and cruised the coastal waters of British Columbia, summer after summer.Muriel Wylie Blanchet acted single-handedly as skipper, navigator, engineer and, of course, mum, as she saw her crew through encounters with tides, fog, storms, rapids, cougars and bears. She sharpened in her children a special interest in Haida culture and in nature itself. In this book, she left us with a sensitive and compelling account of their journeys.
---
Need to get away, or go visit the boat?
Let Kenmore take you there. One of a boaters greatest pleasures is not having to sit in any traffic and poof… your in paradise.
---
Moorage!!
Of course you could always just call one of your favorite destinations and order gift certificates for moorage (just click the logo !).  Now that is a great gift from "Santa"…
I know, there are all kinds of gifts out there that we haven't covered. We hope this gets you into the "nautical state of mind" while you ponder what to get for your loved ones.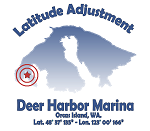 Happy Holidays to you all from the helm!
All the best,
Troy Olason