Perspective. It's the one thing we have that is 100% unique to ourselves. Even identical twins, born and raised in the same house, by the same family, living in the same neighborhood and attending the same schools, end up with a different perspective of the world and life.
I used to be the "smart" one in our family, the one that didn't own a boat. I spent summers growing up on my grandfather's 34' Monk and my dad had a sailboat when I was a teenager. My brother has had several boats, a few uncles and a couple of cousins all had boats as well. I spent time every summer for over 20 years enjoying a family property up near Pender Harbour on the Sunshine Coast, BC. See, I was still able to go boating but my role was simply to bring the beer and maybe pitch in for gas here and there.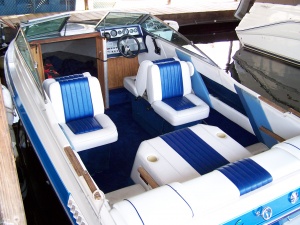 It was May, 2006 and it was finally overtaking me. I needed to get myself on the water. I needed to share this pastime of "Cruising" with my kids and my friends. So, I bought my first boat. A 1987, 19' Sea Ray Seville cuddy with a four-cylinder I/O. Boat, trailer and necessities all for under $7,000. We named her the "Fun Tide".
What I didn't anticipate was the feelings I would have. It was more than pride of ownership, it was about achieving something that I had admired in others since birth. Boat ownership. I now had the perspective of a boat owner.
After a couple of excursions out on the lake it was time to head up to the promised land and hit the San Juan Islands.
Scene: Memorial Day Weekend, 2006.
I trailered up to Washington Park in Anacortes, a friend of mine would meet me in the morning in Friday Harbor via the ferry. I had my boat packed with my stuff, a BBQ and a cooler filled with… the stuff you need to go boating!
She slipped off the trailer effortlessly, I tied her up to the float and went up to park the truck (don't worry, I put the plug in). I returned to the float, started her up and tended to the line and fenders. VHF on 16, squelch adjusted. I then inserted the cassette tape adapter into the (period correct) stereo and got ready to hit shuffle on my new iPod.
Off we go, everything stowed, cushions set up on the seat, beer in a coozy. I reach down and hit play on the iPod. It's on shuffle mode. I start to throttle up a bit and the first song begins.
If there's one thing
In my life that's missing
It's the time that I spend alone
Sailing on the cool
And bright clear water
Yeah, Little River Band's, "Cool Change". I don't know what other song could have been more perfect. I understood the meaning immediately. The beer tasted a little better, the engine purred a little tighter, shoot I think the sun even felt warmer all of a sudden. Each line in the lyrics seemed to be written for just me, just for this moment.
Lots of those friendly people
They're showing me ways to go
And I never want to
Lose their inspiration
It was a time of change for me, I was in the middle of a divorce for starters. New horizons were ahead.
Time for a cool change
I know that it's time for a cool change
Now that my life is so prearranged
I know that it's time for a cool change
I was of course singing along (not surprised?) when I realized the lyrics that were coming up next. I instantly started scanning the waters around me for them.
Well, I was born in the sign of water
And it's there that I feel my best
The albatross and the whales
They are my brothers
Well that's where the true magic ended. I didn't see any whales. Seagulls are sorta like a small albatross, right? Yeah, not really. Anyway I continued to enjoy the song and my crossing of the Rosario Strait. It was poised to be a great weekend.
It's kind of a special feeling
When you're out on the sea alone
Staring at the full moon like a lover
It really is a special feeling. Although I do prefer enjoying all of it with family and friends, sometimes it is very therapeutic to go for a boat ride by yourself.
I arrived in Friday Harbor well before dark and made my way to my slip assignment. I remember rolling up to town for dinner and a couple of pops. My buddy would be arriving in the morning and we would go cruise around the islands before staying at Roche Harbor Saturday and Sunday nights.
Morning arrived, I went up for coffee and walked the docks, I love the morning dock walks. He arrived and we headed straight to the boat, stowed his gear and shoved off. A couple of single guys ready to enjoy the islands and Roche Harbor. Look out ladies.
We stopped briefly at Jones Island and Prevost Harbor on Stuart Island. We then ran over to Sucia Island State Park to see if we could find my cousin in his sailboat, we didn't spot him. So off we went to Roche Harbor.
Still no whales but we did see a dozen or so porpoise. It was raining off and on so we did deploy the "Ballard-version-of-an-Icelandic-weather-repellent-device". The rest of you would recognize it as my tonneau cover snapped to the windshield in front, "lifted" with pvc pipe and held down with bungee cord. You are correct, it was awesome.
We arrived at Roche Harbor mid-day sometime. We were assigned to the main walkway of the new docks, on the NE side between J and I docks. My sweet little 19' Sea Ray nestled in next to all the big boys. We turned on the radio (listened to the M's game for a while I believe), got out the BBQ and opened a couple of beers. Out came a deck chair while my friend laid across the engine cover, he reading a book and I looking over my marine atlas.
Since the moment we arrived, I noticed a gentleman observing us. He was just ahead of us, the second boat in on I dock. He was perched on the fly-bridge of his big, beautiful 65′ yacht, a Pacific Mariner I think. This was the kind of vessel I have dreamed about for most of my life. I would imagine that he was around 60-ish. Two or three times over an hour or so I noticed he was looking our way. I started to wonder what was up. Did he know me? Or more likely, did he know my Dad.
All kinds of thoughts wandered through my head. Then, his wife appeared in the aft cockpit and proclaimed that she would be ready in a few minutes. He replied with, "Ok, I'll be waiting on the dock". Clearly they were about to go up to McMillan's for dinner.
He navigated the steps down to the cockpit of his boat and then stepped over on to the dock. He proceeded to walk around the bow of his boat, toward the main promenade, turned left and walked straight over to us. I started to feel a little awkward.
"You guys have it all figured out" he said with a slight hint of jealousy. I was caught off guard. '"What do you mean" I said with a smile on my face. As he started telling me about some of his boating experiences my mind started putting the pieces together.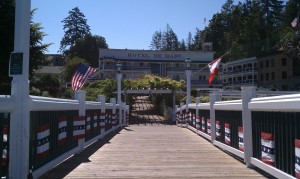 He was in his white pants, maybe khaki, and a freshly pressed collared shirt. I was wearing cargo shorts and a t-shirt. He was going to walk up with his lovely bride and enjoy an amazing dinner at the restaurant. I was about to burn some meat on my little grill for my buddy and I to devour. He just stepped off a 65 foot, million dollar boat. I was sitting next to the Fun Tide.
Somewhere in there he told me that what we were doing was the essence of boating. I was completely flabbergasted. I am sure I made a joke about letting him cook the chicken breasts while I go to dinner with the Mrs. (as long as he was buying).
A moment later his wife appeared next to him and genuinely, happily and gracefully said "ready to go"?
We introduced ourselves to each other, exchanged pleasantries and they were on their way. I bet dinner was delicious.
The chicken that night tasted amazing. The Corona's we were drinking were somehow the best batch ever to come out of the brewery. Heck, the grill even cleaned up easy. The colors ceremony was as pure as always. But you know what? We were both enjoying Roche Harbor. And we both appreciated each others version.
The difference between him and me? Perspective.
If you are creating lifelong memories and having fun out on the water it doesn't matter if you are sailing or motoring, at the rate of 6 knots or 33. It doesn't matter if you have a 65′ yacht or a 19′ cuddy cabin. What does matter is that you are out Cruising on the majestic waters we are blessed with here in the northwest. Your friends, family, kids and grand kids will thank your forever.